Map of Vegetarian & Vegan-friendly European Countries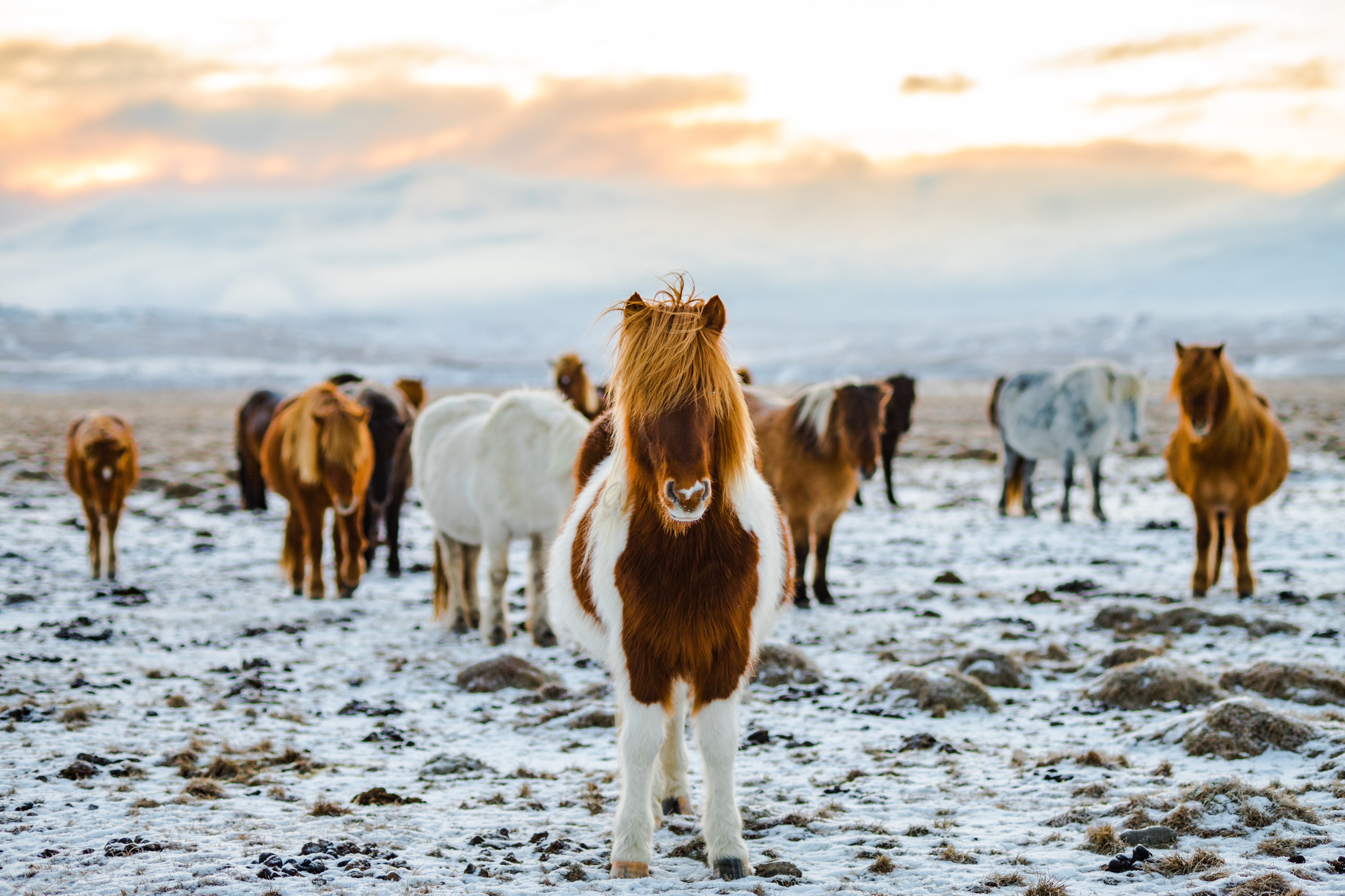 Having being stuck in lockdown for much of 2020, we couldn't help daydream about traveling again. With that in mind, we wanted to see which European countries are best for meat-free diets.
We're also going to take a look at growth rates of meat-free diets across the continent over the last 4 years. To rank our countries we've looked at:
The number of vegan or vegetarian restaurants (source: happycow)

How many vegan or vegetarian restaurants there are per head of population (population source: wikipedia)
Using those figures we calculated the number of veggie restaurants per million people. The higher that number, the higher that country's 'veggie-friendliness'.
The top 5 is pretty surprising!
I personally would not have guessed the top 5.
At 1 we have Iceland which sort of makes sense. Iceland has a small urban and relatively wealthy population. Luxembourg at 5 is similar, small and relatively wealthy. These countries only need a few veggie restaurants to push them up the table.
Portugal at 2 is definitely a surprise to me. When I think of Portuguese food I think of seafood and Chicken Piri-Piri. But there are hundreds of vegan or vegetarian restaurants in Portugal, who knew?
The Czech Republic at 3 is another surprise. As we move east along the European map we see fewer veggie-friendly countries. The Czech Republic bucks this trend.
Interestingly, it's neighbour (and former Country-mate) Slovakia also takes a top spot. We asked some Czech friends, but they didn't have an explanation for this trend.
We wondered if most of the restaurants in the Czech Republic were vegetarian and not vegan but this isn't the case either. 40% of its restaurants are vegan which is similar to other countries such as the UK.
The UK, at 4, is less of a surprise. The vegan society was founded in the UK way back in the '40s and London is often touted as a particularly vegan-friendly city.
Check out the map below: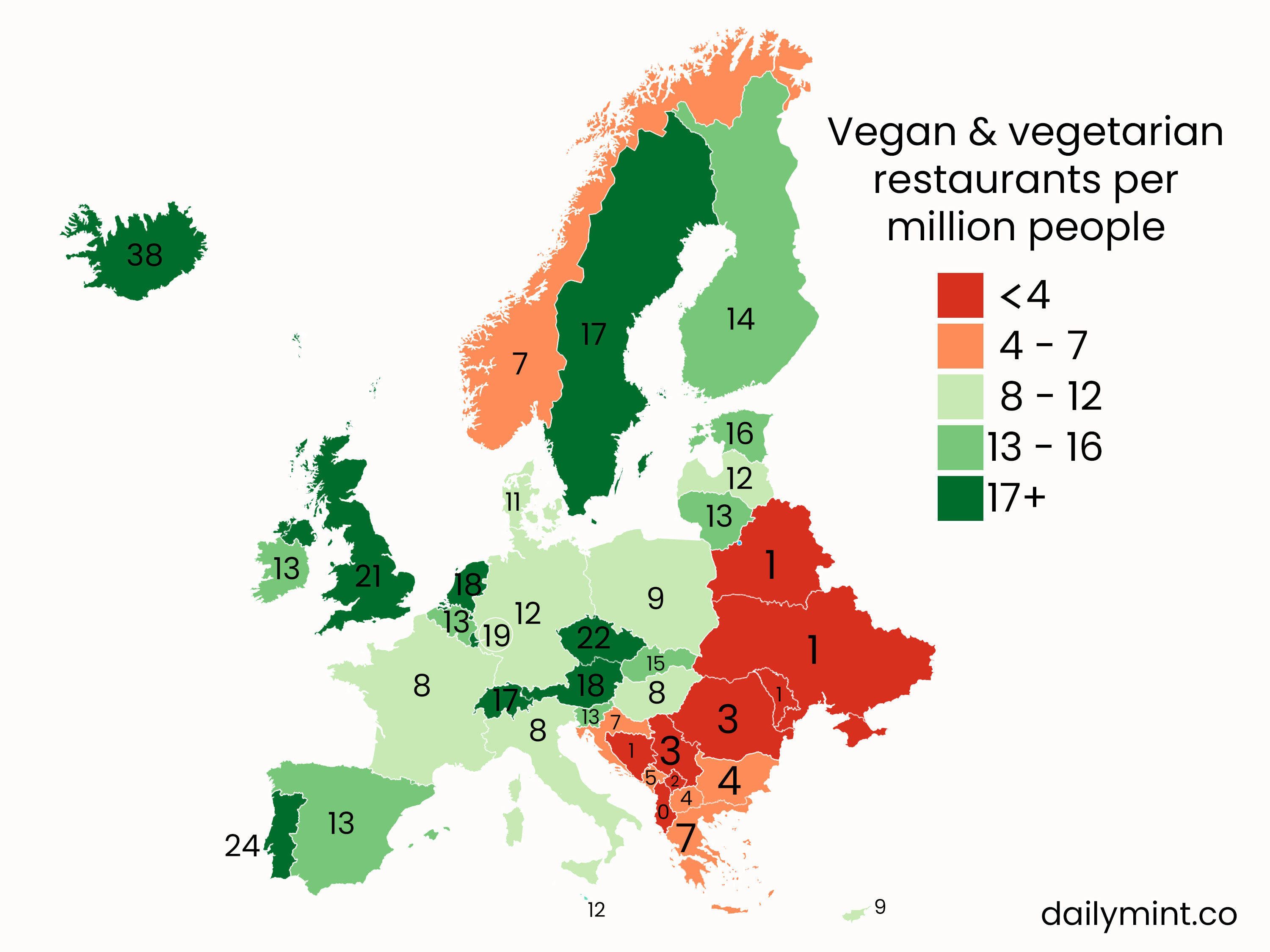 In 4 years European countries have increased their veggie-friendliness by more than 50%
As I was researching this piece I discovered that a blogger called Jakub had created the same map I had almost exactly 4 years ago.
As I compared my updated map with Jakubs I came to an interesting realization. In just 4 years the number of vegan and vegetarian restaurants has dramatically increased.
In 3 countries, (France, Greece, and Bosnia), the growth rate is more than 200%. It's over 100% in a further 9. In all, 75% of countries have seen a growth rate of more than 50%.
See the full table below:
| | | | | | |
| --- | --- | --- | --- | --- | --- |
| Country | Population | No. of veggie restaurants | No. of veggie restaurants per million | Rank | Growth rate vs 2016 |
| Iceland | 342,303 | 13 | 38.0 | 1 | 53% |
| Portugal | 10,184,326 | 246 | 24.2 | 2 | 154% |
| Czech Republic | 10,722,241 | 232 | 21.6 | 3 | 58% |
| United Kingdom | 68,077,834 | 1447 | 21.3 | 4 | 88% |
| Luxembourg | 632,174 | 12 | 19.0 | 5 | 73% |
| Netherlands | 17,149,867 | 306 | 17.8 | 6 | 100% |
| Austria | 9,045,069 | 160 | 17.7 | 7 | 28% |
| Switzerland | 8,684,273 | 150 | 17.3 | 8 | 82% |
| Sweden | 10,127,723 | 174 | 17.2 | 9 | 55% |
| Estonia | 1,329,477 | 21 | 15.8 | 10 | 90% |
| Slovakia | 5,462,617 | 84 | 15.4 | 11 | 114% |
| Finland | 5,545,596 | 79 | 14.2 | 12 | 47% |
| Belgium | 11,619,816 | 152 | 13.1 | 13 | 126% |
| Slovenia | 2,079,798 | 27 | 13.0 | 14 | 34% |
| Ireland | 4,973,244 | 63 | 12.7 | 15 | 67% |
| Lithuania | 2,702,373 | 34 | 12.6 | 16 | 9% |
| Spain | 46,798,331 | 584 | 12.5 | 17 | 84% |
| Germany | 84,069,840 | 1015 | 12.1 | 18 | 68% |
| Latvia | 1,876,751 | 22 | 11.7 | 19 | 102% |
| Malta | 514,564 | 6 | 11.7 | 20 | -1% |
| Denmark | 5,799,640 | 65 | 11.2 | 21 | 84% |
| Poland | 37,840,465 | 354 | 9.4 | 22 | 77% |
| Cyprus | 1,192,875 | 11 | 9.2 | 23 | 110% |
| France | 65,325,133 | 542 | 8.3 | 24 | 207% |
| Italy | 60,442,138 | 499 | 8.3 | 25 | 29% |
| Hungary | 9,652,821 | 78 | 8.1 | 26 | 50% |
| Greece | 10,405,527 | 75 | 7.2 | 27 | 228% |
| Croatia | 4,094,038 | 29 | 7.1 | 28 | 31% |
| Norway | 5,436,637 | 38 | 7.0 | 29 | 27% |
| Montenegro | 628,236 | 3 | 4.8 | 30 | 49% |
| Bulgaria | 6,928,665 | 29 | 4.2 | 31 | 82% |
| North Macedonia | 2,084,162 | 8 | 3.8 | 32 | 32% |
| Romania | 19,168,101 | 53 | 2.8 | 34 | 73% |
| Serbia | 8,729,686 | 22 | 2.5 | 35 | 129% |
| Kosovo | 1,798,506 | 3 | 1.7 | 36 | 52% |
| Ukraine | 43,642,532 | 58 | 1.3 | 38 | 121% |
| Bosnia and Herzegovina | 3,269,170 | 4 | 1.2 | 39 | 308% |
| Belarus | 9,452,123 | 11 | 1.2 | 40 | 191% |
| Moldova | 4,031,141 | 3 | 0.7 | 41 | -7% |
| Albania | 2,878,367 | 1 | 0.3 | 42 | -13% |
Veggie restaurants: Vegan and vegetarian restaurants combined